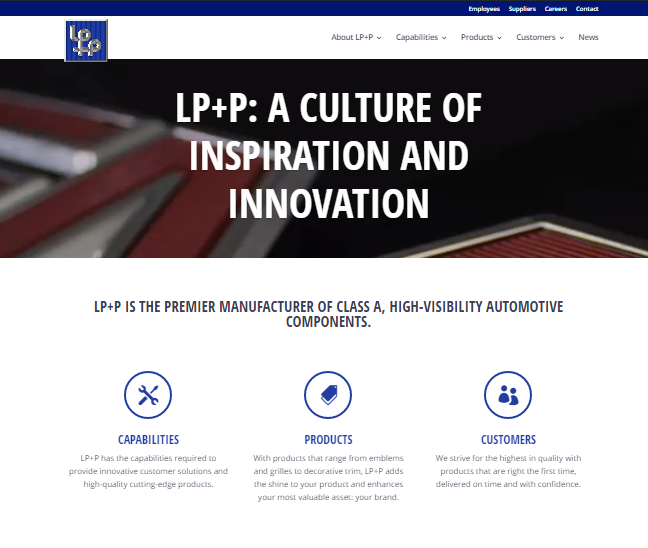 Lapeer Plating + Plastics (LP+P), manufacturer of Class A, high visibility components for the auto industry, is reintroducing itself to the market with a new management team and a strategic vision to be the supplier of choice in the markets it serves. The company has launched a new website (www.LPP-inc.com) focusing on the innovative processes and solutions it supplies to help automakers improve and differentiate their products by 'delivering beauty that inspires.'
LP+P has a successful history supplying exterior and interior trims, ornamentation, moldings and grilles to leading OEMs and auto suppliers.
The company's chrome plated, paint-over-chrome, and lighted ornamentation 'puts the signature' on automotive products.
LP+P recently revamped its executive team in order to innovate new higher value-add products, expand its manufacturing capabilities and be a problem solver and solution provider.
"Every day our customers are challenged to produce products that can differentiate themselves in a crowded, competitive market," said Dean Harlow, LP+P CEO. "At LP+P, our value is supplying innovative, cutting edge engineering and design that exceeds the competition and excites the public."
LP+P's 135,000 square feet facility in Lapeer includes injection molding, electroplating, painting and assembly operations and is located conveniently to OEM and supplier manufacturing facilities. New products can normally be tooled, tested and placed into mass production as quickly as under six months.
As a direct or tiered supplier, LP+P has strong customer relationships with many of the most sophisticated manufacturing companies in the world, including U.S., German and Japanese OEMs and many of the most respected Tier 1 suppliers.
"Together with our focus on flawless execution, quality and on-time delivery, and our collaborative approach to working with our customers, we want to be the 'go to' source for world class ornamentation and trim components," says Harlow. "We think we're well on our way to becoming that."
Dean Harlow joined LP+P as chief executive officer in 2017. He previously served as president and CEO at Ricardo Inc. and spent 25 years at General Motors where he had a variety of executive roles in finance, engineering, powertrain and strategy both in the United States and China. At LP+P, he leads a team of 350 employees and is tasked to both grow and diversify the company.
About LP+P
LP+P is the premier manufacturer of Class A, high-visibility automotive components. We specialize in the design, production, and delivery of exterior and interior decorative trims, including ornamentation, badges/emblems, body-side moldings, painted emblems, small/medium grilles, and accessories.
Delivering Beauty That Inspires
Media Contact:
Patrick Liebler
Liebler Group PR, 248.229.4418